Middleburg's first coworking space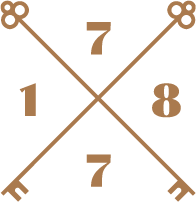 Premium coworking space in the heart of historic Middleburg
At 1787, you won't need to drive all the way to Leesburg or Ashburn for an elevated coworking space experience. With a fiber-optic, high-speed internet connection, unlimited and locally sourced organic snacks and drinks, and many membership options to fit your needs and budget, 1787 is your answer to getting work done.
Why 1787?
Location

1787 is located in the heart of downtown Middleburg. Easily walk to coffee shops and restaurants.

High-speed Internet

We have a dedicated fiber internet connection with speeds of 500 Mbps up/down.

Snacks & Drinks

Unlimited snacks and drinks are included with all of our plans.

Bookable Spaces

Need a space to have a meeting or host clients? Our conference room has you covered.
Pricing & Membership
Flex Desk
$199
/mo
First come, first serve desk
Unlimited beverages and snacks
6 conference room hours /mo
Sign up
Dedicated Desk
$399
/mo
Everything in flex, plus
Dedicated, brandable desk
Lockable storage
8 conference room hours /mo
Sign up
Private Office
$699
/mo
Everything in dedicated, plus
Private, lockable office space
Branded signage options
12 conference room hours /mo
Sign up
Contact
Interested in joining 1787 Coworking or learning more about our space or membership plans? Please fill out our contact form and we'll get back with you shortly.

111 E Washington St Middleburg, VA 20117